The Flow Factor
General purpose solenoid valves are used with a wide variety of liquids and gases in a broad spectrum of applications.
Rating the valve capacity in terms which apply to all operating conditions is accomplished by determining the "Flow Factor" (Cv) of the valve.
The Cv value is the number of U.S. gallons of water at 16°C (60°F) per minute that, when flowing through the valve, causes a pressure drop of 1 PSI.
There are five main parameters to consider when selecting a valve: Cv, media compatibility, pressure, temperature, and process fitting.
Our Store
We specialize in products for the control of flowing processes. Our products control water, gas, air, oil, and steam media.
Processes can include heating lines, cooling lines, waste water lines, process air lines, and hydraulic systems.
Our Technical Blog
View our Process Flow and Control technical blog for more in-depth details on our proudcts.
Our Products
We offer great products at great prices at Flow Factor. Check out our selections:

---

Penberthy Jet Pumps (Eductors)
---

Elster American Meter
(AMCO) Gas Meters
---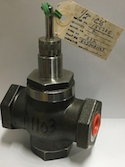 ---
Contact us via phone at 1.866.360.9830 or via email at info@flowfactor.com for parts not shown online so that we can provide you with a quote.
Can't find what you are looking for? Check out our Site Map.
Our Manufacturers
Flow Factor parts are all made by market leaders.