Penberthy Jet Pumps (Eductors/Ejectors) Cutaway View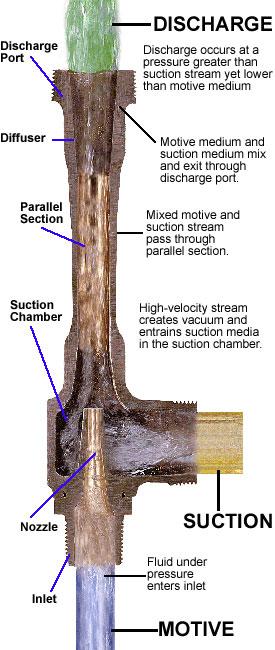 Flow Factor sells low head, medium head, and high head Penberthy Gas/Steam Motive and Liquid Motive Jet Pumps (Eductors/Ejectors) in Bronze, Cast Iron, Carbon Steel (CS), Stainless Steel (SS), Monel, Hastelloy, PVC, and Polypropylene.
Gas/Steam Motive Jet Pumps
Liquid Motive Jet Pumps
Steam Heating and Mixing Eductors
Simple Jet Pump Design Offers Economical Solutions for Many Complex Process Operations!
Providing a practical alternative to more complicated and expensive methods, Penberthy jet pumps offer simple, more cost-effective ways to pump, mix or heat a wide range of liquids and gases used in the process industry. Jet pumps can operate with a wide variety of motive liquids and gases. If you recognize any of the following, you can probably use a Penberthy jet pump:
Injectors
Exhausters
Ejectors
Siphons

Eductors
Boosters
Kinematic Pumps
Penberthy jet pumps have a myriad of uses. Jet pumps not only pump liquids, they can also heat, mix and blend either in-line or in-tank. Jet pumps can evacuate gases, create a vacuum, boost suction pressures, mix granular solids with liquids and move granular solids with compressed air. In fact, you will be suprised at what a jet pump can do to solve your problem.
If you do not find the Penberthy product you are looking for, please fill out our Penberthy Parts Form and we will provide you with a quote.